EDI Parser
Electronic data transfer simplified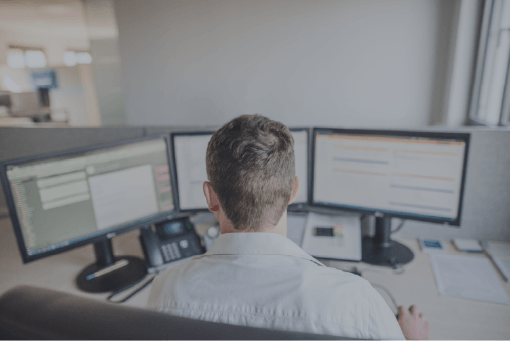 Electronic data transfer and conversion with the SAP-integrated EDI Parser
For the electronic and fast communication with customers, partners, suppliers, and other dealers, but also internally between different divisions and locations, a coherent data language is essential. Therefore, exchanges must be industry-independent but must also allow for industry-specific language when global document standards apply for an industry. Through the EDI Parser messages can be adjusted accodring to industry standards and subsequently be sent from the ERP system. Data formats can be customised.
REQUIREMENTS FOR AN EDI PARSER
To facilitate
industry-specific and non-specific
digital communication with other companies and organisations, a
coherent language
is essential. Messages, including on the shipment of orders, must be legible for every company. It is the function of an EDI Parser to convert in- and outbound EDI messages into IDocs – i.e. to convert SAP-foreign EDI formats.
When two systems with different standards are set to exchange electronic data, mapping must take place between the data export from the source system and the import into the target system. Mapping transfers the source system's data into the format of the standard used in the target system. Typically, this happens through external mapping services that take the required data from the source system, internally convert it into the desired target standard, and finally transfer it to the target system in the correct format.
Providing SAP customers with an opportunity for electronic data exchange with non-SAP systems (and by implication other standards) without having to involve external service providers, we offer an SAP-integrated data-format converter.
For this, bidirectional data exchange was very important for us. Bidirectional in this case means that outgoing data is first converted into the required target format in SAP before it is exported. Likewise, incoming data is first translated from the source standard into the SAP standard before being imported. Which data formats can be configurated, or else converted, and which processes are initiated at first or later on can of course be tailored to our customers' needs. After the integration of the EDI Parser customers can even do so themselves if they wish.
WHAT THE EDI PARSER HAS TO OFFER
Integrated into the SAP system
Without additional interface and with direct integration into the SAP system the conversion process can be completed fast and simple. The EDI Parser automatically updates with system upgrades.
No additional licences required
The costs of the EDI Parser are fully transparent and only need to be met once – irrespective of the number of messages that require conversion. Additional SAP licences are not necessary.
SAP ERP ECC and SAP S/4HANA (cloud)
Whether into SAP ERP ECC or SAP S/4HANA, the EDI Parser ca be integrated into both ERP systems – both on premises and in the cloud.
Customer-specific adjustments
Through SAP customising adjustments we can respond to your specific processes and circumstances – even if you are catering to different industries.
Security of company data
No security gaps – all company data remains in your SAP system and does not need to pass through third-party solutions or interfaces.
Industry-independent data formats
You are catering to different industries that prescribe specific data formats? No problem: we happily provide you with different conversion options. If needed, you can carry out these adjustments yourself at a later stage. Examples: IDoc, CAD files, XML, EDIFACT, etc.
CORE PROCESS OUTBOUND MESSAGE TRANSFER
HOW IT WORKS
 Step 1
 Message creation  
In the SAP system an IDoc is created through SAP message control. This is the standard format in SAP
Step 2
Transfer to the EDI Parser  
After the creation of the IDoc all data is transferred to the EDI Parser.
 Step 3
 Conversion into the target format  
Now, the conversion into the desired and pre-determined target format is carried out via the EDI Parser.
Step 4 
Depositing on the application server 
After the respective EDI message has been generated in the target format, it is deposited on the SAP application server.
The inbound process of an EDI message works almost exactly like the outbound process – just the other way around. An SAP-format-foreign EDI message is converted after recipt into an IDoc format, making it legible for the SAP system.
All important information at a glance?
Please download our free factsheets around process automation solutions in our download center, where you may also find our company brochure and more.
IMPORTANT REQUIREMENTS FOR THE EDI PARSER
For the integration of the EDI Parser a few arrangements and agreements must be made. All necessary adjustments in the sytem will be made by us beforehand.

SAP system
Since it will be directly integrated into it, the EDI Parser works only for customers possessing their own SAP system. Of course, our SAP developers can complete necessary costumising settings for you.

Clear directions
We require the possibility to create a connection with the desired target systems and a clear decision on which EDI format is expected by the target system.

Communication adjustments
Information concerning potentially existing interim contractors must be revealed. These could check exchanged documents with reagrd to accuracy and security aspects. According to this adjustments may need to be made.
Further automate SAP processes?
Beyond the optimisation of data transfers, we are offering solutions for the automation of the incoming invoice process, for order confirmations and many other business processes. There is more to learn about our additional process solutions.
WE ARE ALREADY PROFITING FROM PROCESS AUTOMATION IN SAP